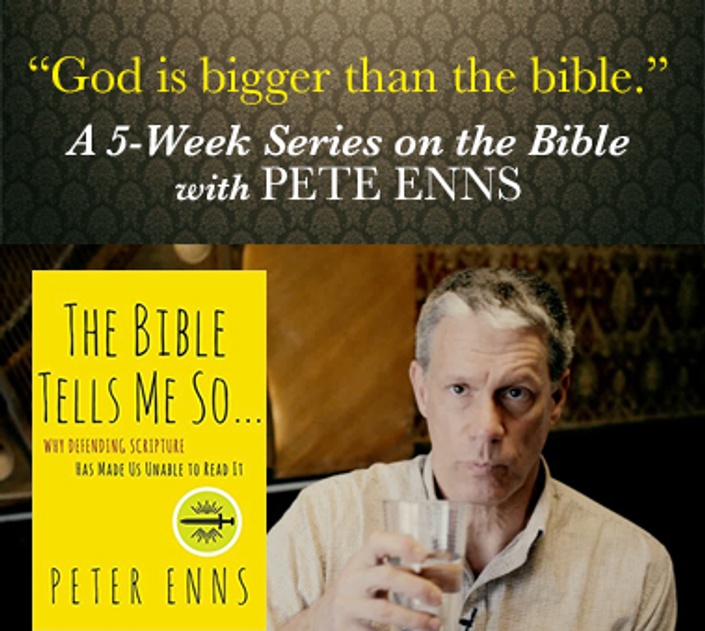 The Bible Tells Me So
A 5-Week Film Series on the Bible with Pete Enns Starting August 19, 2019
THE BIBLE FOR NORMAL PEOPLE
What is the Bible, anyway, and what do we do with it?
What if the Bible is fine just the way it is? Not a well behaved Bible, where everything lines up and makes sense, but the messy, troubling, and weird Bible we actually have? What if the Bible doesn't need to be protected and defended, but understood–just as it is? What if the real problem isn't the Bible but the false expectations we sometimes bring to it? Perhaps, when we let the Bible be the Bible rather than what we expect it ought to be–or need it to be–we will find a deeper faith in the process.

Join biblical scholar Peter Enns on this 5-week discussion journey around ideas from his book, The Bible Tells Me So. This time spent viewing these films, and in discussion with Peter Enns and others, will stir your imagination, maybe deepen your trust in God, and hopefully find the Bible come alive in new, life-giving ways.
"Peter Enns has written a great book about The Book. If you've ever struggled with the violent or contradictory or just plain strange passages in the Bible, this book is for you . . . And he's funny."

- Rob Bell

"Cross a stand-up comic, a robust theological mind, a college professor, and a decent normal guy, and what do you get? Peter Enns. And what does he write? A super-enjoyable, highly informative, disarmingly honest, and downright liberating book. The message of this book needs to get out. Fast."

- Brian McLaren

"Stop what you're doing and read this book! Challenging, compelling, and delightfully readable, The Bible Tells Me So, is a game-changer. Enns releases scripture from the cage we've built for it and then teaches us to love it for what it is, not what we try to make it. Every Christian should read this book."

- Rachel Held Evans

"The question of how to read, inwardly digest, and eventually 'live' the Bible is probably the most divisive one among Christians today. The shock of Enns's The Bible Tells Me So, then, is either the simplicity and clarity of its answer to that question or else the humor and confessional belief with which the answer is offered. This is a book that every Christian will be the better and richer for having read."

- Phyllis Tickle
EXPLORE WITH OTHERS
Looking for the freedom to work out ideas on faith and the Bible?
Join biblical scholar Peter Enns on this 5-week discussion journey around ideas from his book, The Bible Tells Me So. This time spent viewing these films, and in discussion with Peter Enns and others, will stir your imagination, maybe deepen your trust in God, and hopefully find the Bible come alive in new, life-giving ways.

Your Instructor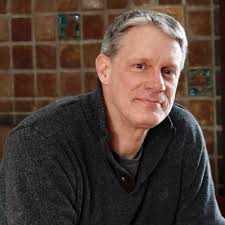 Peter Enns is the Abram S. Clemens Professor of Biblical Studies at Eastern University, St. Davids, Pennsylvania. Enns speaks at schools, churches, and seminars across the country and is a frequent contributor to journals and encyclopedias. He is the author of several books, including The Sin of Certainty, The Bible Tells Me So, Inspiration and Incarnation, and The Evolution of Adam., and How the Bible Actually Works.
THE SIX WEEK CLASS WILL INCLUDE:
A facilitated and interactive online class experience that allows for group members to share freely and safely.

Videos and reflection questions with Pete Enns to launch discussion and engagement with the material each week.

Ability to engage around your own schedule at any time, based on any time zone or availability.

Practices, resources, exercises, and links to other Work of the People and Pete Enns resources.
Frequently Asked Questions
Do I use my The Work of the People sign in info?
You don't use your TWOTP sign in info, you need to sign up here separately.. (Down the line, the courses will be more integrated into the TWOTP website). No, this is a new account with the e-course platform Teachable, so you'll need to sign up and in with new account info. NOTE: In the near future, the Teachable e-courses will be integrated into the TWOTP site, so at the point, you will sign in directly to TWOTP to access e-courses.
How long do I have access to the course?
The course starts August 19th and runs for five weeks. There will be access to the course a couple weeks after the class ends for follow up conversations with participants. Session releases are scheduled but you can participates can journey through at their own pace.
What if I lose my faith and/or hate the course or teacher?
You can get your money back, just email us at info@theworkofthepeople.com.
Can folks in other time zones and countries participate in the E-Course 7 Conversation
Of course. Anyone on the planet with internet access can take the course. There are no scheduled, live video teachings. For the most part, new material for each week is released on Monday. You can can jump in anytime during the week to watch the films and jump into the conversation. Pete, the instructor in the films and the one curating the conversation, and folks in the course with jump into the conversation, at their own rhythms, during the week to respond and participate.
CALLED TO PILGRIMAGE
Often times we are called to pilgrimage. To leave the places we know (internally, our thoughts, assumptions and beliefs, maybe) to explore with courage and curiosity the unknown (the great mystery of God and cosmic reality). The idea behind launching e-courses is to offer a guided mini-journey for individuals seeking to connect and work out ideas about faith and life with others. We aim to cultivate forums that promote questioning and self-awareness, deep listening, honest reflection, and courageous sharing.


In a world where hostilities against the human spirit often seems to be front-and-center, we hope that together we create alternative atmospheres of acceptance and encouragement, comfort and togetherness. We also hope you gain helpful tools, grow in your practice, and make friends—especially unlikely ones—that might continue on with you along the way. It is good to know you are not alone.


Admittedly, we are still pioneering what this looks like for TWOTP. It seems that more and more we are meeting spiritual seekers who (for whatever reason) are without a home community and are longing for mentorship and interaction with others in an environment that welcomes the deeper questioning known to expand faith and enrich life.


We hope our e-courses are online discussion groups can be a place to meet that desire. Each course will include assignments to watch films, include questions that lead to in-depth self-inquiry and group discussions throughout the duration of the course (typically 4-6 weeks) all facilitated by a mentor and friend of TWOTP.

We hope this becomes a resource that feeds into your becoming. Our greatest hope is that all we offer brings about more love, hope, and healing to the beloveds of the world.